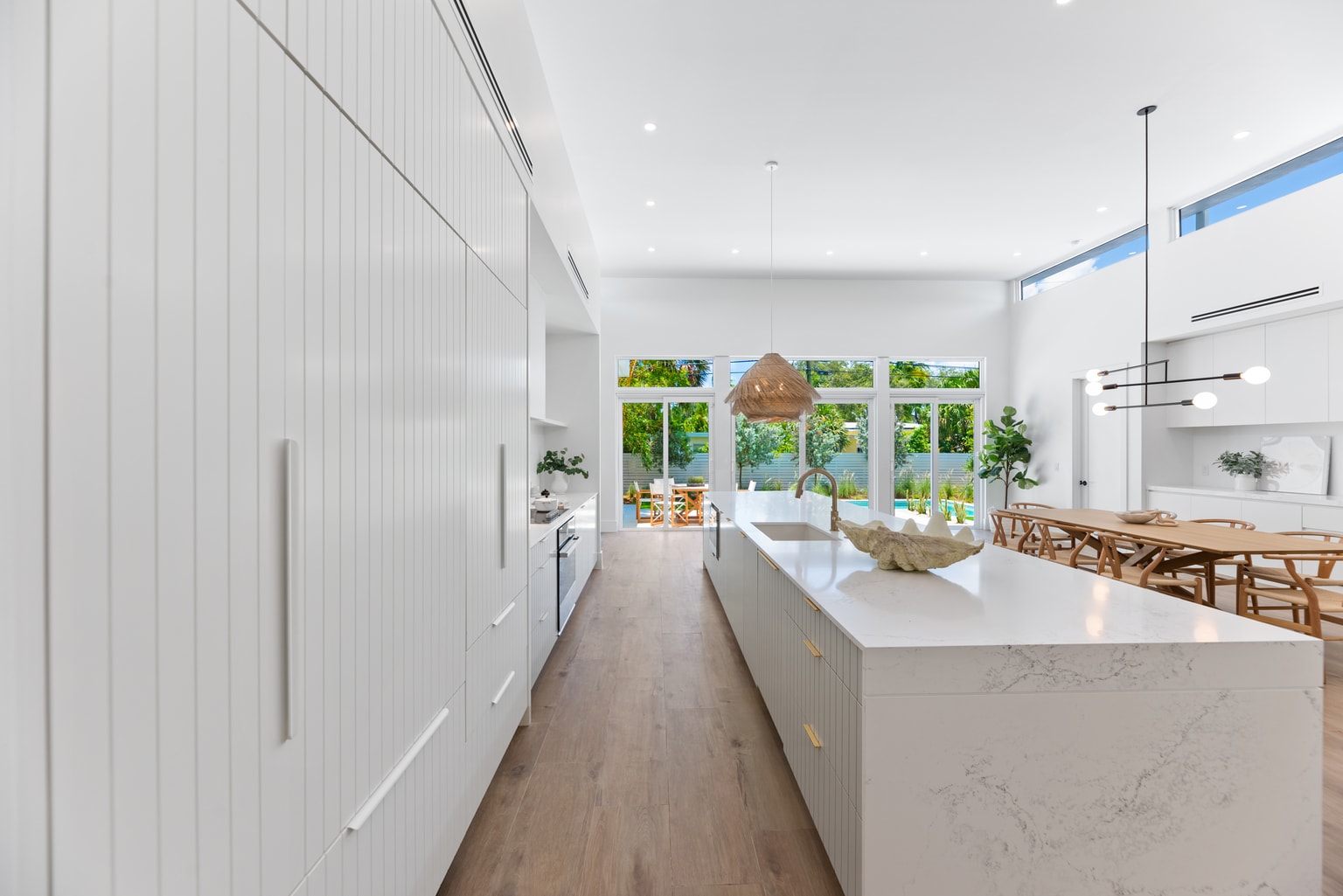 How to Vet & Select the Right General Contractor for Your Designer Custom Home or Major Remodel Project
Vetting and selecting a general contractor who is professional and experienced in working with an interior designer is a crucial step in ensuring your project ends in a "magazine worthy" manner. Vetting a general contractor for a design-intensive project involves more steps than what a homeowner would follow for a regular construction project they are managing themselves.
A new ground-up custom home or major designer remodel requires extra work. But in the end the time and effort invested will save you time, money . . .and your sanity.
Over the years in our experience designing and building both spec homes and client projects has allowed us to work with dozens of general contractors. There have been some good ones (who we still work with), some that were okay (but not ideal), and others that were just flat-out a nightmare to work with.
Lack of professionalism, organization or leadership skills are bad enough. But we've found the number one killer of a smooth-running successful project is ego. Nothing is more emotionally and financially draining than working a general contractor who thinks they know it all and refuses to work closely with the design team. These type of contractors often 'go roque' making decisions on their own and either jeopardizing the design integrity of the project, or costing the owner thousands of dollars in change orders.
Here are 13-steps you can use to effectively screen and select a general contractor for a design-intensive project. For simplicity I've divided the steps into the different stages of the vetting process.
PRE-CONTACT: researching & screening general contractors
1. Be sure you have a defined project scope:
Begin by clearly defining your project's specific scope, goals, and ideal timeline. Accurately conveying the scope of work will require both permit-related plans and design contract drawings which will document specific design elements and materials that will be involved.
2. Research and gather recommendations:
A) If you are already working with an interior designer and/or architect, these professionals are your primary source for referrals.
B) If not, you'll want to seek recommendations from trusted sources, such as friends, family, colleagues, or professional networks, who have worked with general contractors in the past.
C) Another option, though not the easiest to navigate, is to consult online platforms and directories that specialize in connecting clients with reliable contractors.
3. Check the GC's credentials and licenses:
Verify that the general contractor holds the necessary licenses and certifications to not only operate in your area, but also legally work on a project of your scope. This information can typically be obtained from local licensing boards and/or State agencies. This is pretty straight-forward and seems obvious, but there's no sense going any further in your vetting process with a general contractor if they are not properly licensed for a project of your scope.
4. Review portfolios and previous work:
Ideally a professional general contractor will have a website with a portfolio or samples of completed projects. Evaluate their previous work to assess the quality, craftsmanship, and overall aesthetic appeal relative to your project scope. Look specifically for projects that align with your design aesthetic.
INTERVIEW CONTRACTORS: time to talk
5. Conduct your interviews:
Narrow down your list to a few preferred candidates and schedule interviews. During these interviews, assess the contractor's communication style, their understanding of your project goals, their willingness to collaborate with interior designers, and their level of professionalism. Ensure they have experience working with interior designers and are open to the collaborative process.
6. Evaluate expertise and experience:
Inquire about the contractor's experience in similar projects, particularly those involving a high degree of architectural detail and interior design. Assess their knowledge of materials and construction methods specific to design-intensive projects. A contractor with relevant expertise is more likely to understand and execute your vision effectively.
This step should definitely include you visiting at least one of the general contractors' previous projects. This is so you can assess whether the contractors' determination of what he or she considers 'acceptable' quality aligns with what you are looking for. It also allows you to see attention to detail that may not be apparent in portfolio images.
7. Assess project management skills:
A successful contractor should possess strong project management skills. Inquire about their ability to create detailed project schedules, manage subcontractors, handle budgeting, and effectively communicate progress updates. You can also ask about how many subcontractors they regularly work with in each discipline (mechanical, electrical, plumbing, tile setting, etc.)
8. Seek client references:
If the general contractor is a referral from your interior designer or architect, these are your first sources for feedback on a contractor.
Request references from past clients who have worked with the contractor. Contact these references to inquire about their experience, the contractor's professionalism in working with the design team, adherence to details and deadlines, communication skills, and overall satisfaction with the completed project.
Be sure to ask references about change orders as well. A lot of change orders not requested by the client or not related to unexpected "surprises" on the project can be a red flag.
POST-INTERVIEW: dig into the details
9. Check for legal and financial stability:
Verify the contractor's legal and financial stability by checking their standing with relevant industry organizations, such as local builders' associations or the Better Business Bureau. Confirm they have a good reputation and minimal legal disputes.
10. Request detailed proposals:
Request written proposals from the top candidates that include the project timeline, cost estimates, breakdown of materials and labor, and any specific terms or conditions. Compare these proposals to evaluate each contractor's approach, attention to detail, and cost-effectiveness.
NOTE: Be prepared to pay for detailed quotes on major projects. Design intensive projects require dedicating a significant amount of time and expertise to produce a detailed proposal. A good/qualified general contractor will not provide "free estimates" beyond a verbal ballpark number. To obtain a highly detailed proposal from a qualified general contractor expect to invest anywhere from $5,000 to $20,000 or more depending on the size, complexity, and scope of your project.
FINAL SELECTION: make your decision
11. Review and compare the contract:
Carefully review the contract provided by the selected contractor(s). Ensure it includes all project details, scope of work, payment terms, change order procedures, and dispute resolution processes. Seek legal advice if necessary.
Most contractors STUDIO 818 works with reference both the structural contract drawings (permit plans) and design contract drawings with the related production dates of those documents. This is an ideal for ensuring every detail is included in their proposal and for avoiding unnecessary change orders as the project progresses.
12. Seek clarity on warranty and post-construction support:
Inquire about the contractor's warranty policy and post-construction support. A reputable contractor will provide at least a one-year warranty on their workmanship and should be responsive to any issues that may arise after project completion.
13. Trust your instincts:
This cannot be emphasized enough! We've learned the hard way to NOT ignore "gut-feelings." Through a lot of trial and error we've developed processes that elicit the information we need to confirm "gut-feelings." But in the past whenever we have ignored our instincts with a general contractor, we've gotten burned.
Trust your instincts and choose the contractor with whom you feel most comfortable and confident. Consider their communication style, responsiveness, and willingness to address your concerns.
By following these steps, you can go a long way toward effectively screening and selecting a general contractor who demonstrates professionalism, experience, and a strong ability to collaborate with interior designers, increasing the likelihood of a successful outcome on your design-intensive project.